Submit a Manuscript to the Journal for the Study of Education and Development / Infancia y Aprendizaje
for a Special Issue on "Constructions of the Self in Education: Positioning and Agency of Learners and Teachers "
Abstract deadline: 28 February 2023
Manuscript deadline: 25 August 2023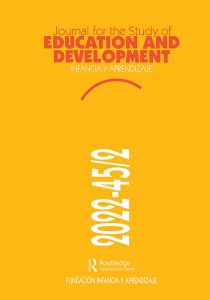 Special Issue Editors
Ana-Clara Ventura, CONICET/Universidad Nacional del Comahue (Argentina)
ventura@comahue-conicet.gob.ar
Eva Liesa-Hernández, Universitat Ramon Llull (Spain)
evalh@blanquerna.url.edu
Mónica Roncacio-Moreno, Universidad del Valle (Colombia)
monica.roncancio@correounivalle.edu.co
Potential submissions could strive to answer (but are not limited to) the following questions:
What role does agency play in the construction of identity in learners and teachers?
How might young learners' selves and agency develop in different educational levels?
How do learners construct their identity? How do their interactions with mentors, teachers, supervisors and peers influence learners' identity construction?
How might new educators' selves and agency be shaped and reshaped during their transition from 'students' to 'teachers'?
How can teachers promote dialogical and agentive educational settings?
What factors and/or voices are significant in the transformation of the repertoires of the different positions of the self of learners and teachers?